SofterWare is based in Horsham, Pennsylvania, a suburb of Philadelphia. We were founded in 1981 with a mission to develop and support software that is easy to learn, easy to use, and adaptable to users' unique needs. The company has grown over 30 years from a small entrepreneurial business to a $30 million+ company with over 10,000 nonprofit, childcare, camp, school and payment processing clients. We credit our longevity and success to our team's dedication to providing complete customer satisfaction through outstanding products and services.
Meet the SofterWare Team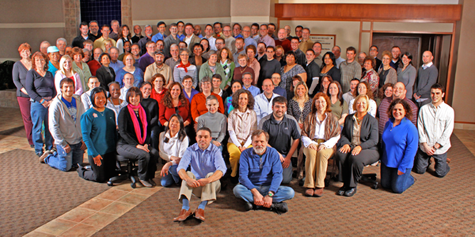 SofterWare's staff of over 150 professionals (not all pictured above) includes programmers, trainers, support teams, and account managers, many of whom have had first-hand experience in the fields we serve. The combined expertise, dedication, and longevity of the staff are some of SofterWare's primary competitive advantages.
Meet the SofterWare Executive Team



Douglas Schoenberg,
Chief Executive Officer & Co-Founder

Doug has worked in the computer industry since the early 1980s, and has been CEO of SofterWare since 1998. He also sits on the board of several nonprofits, including a multi-site childcare provider, and has served as an advisor to several childcare-related professional organizations and publications. In the 1990s, Doug pioneered the use of electronic payment processing in the childcare industry, and ever since has championed its efficiency, cost- and time-saving uses by non-profit and for-profit organizations. He is a frequent speaker and author on topics related to payment processing, nonprofit management and technology, and childcare administration. Doug is a proud Lehigh University Mountain Hawk , and is a Phi Beta Kappa and Summa Cum Laude graduate.



Dr. Nathan Relles,
President & Co-Founder

Nathan co-founded SofterWare after leading Sperry Univac's (now Unisys) Software Research Group on Human-Machine Interaction. He has been on the faculty of Temple University's Computer Science Department, has served on the board of directors of numerous nonprofit organizations, and has been an officer on many of them. Nathan is a Badger, receiving his MS and Ph.D. in Computer Sciences from the University of Wisconsin. His research and dissertation were in human factors and the design of easy-to-use computer systems, (which is why he named the company SofterWare).



Michael Sernoff,
Senior Vice President

Mike joined SofterWare in 1993 and has worked in every client-related capacity for the company including: support, training, data conversion, sales, and technical services. These experiences have provided him with a keen insight and understanding of the needs of SofterWare's clients. Mike is both a Minuteman and a Dragon, holding a BBA from the University of Massachusetts and an MBA from Drexel University.



Jon Biedermann, Vice President
– Fundraising Products & Services

Jon has served the nonprofit community since the late 1990s. In 2001, he was responsible for the launch of DonorPerfect Online, which pioneered web-hosted fundraising solutions for nonprofit organizations. Prior to joining SofterWare, Jon spent over four years with Procter & Gamble, serving as a lead developer in their Sales Management Systems Division. He has presented numerous seminars on the use of fundraising technology for nonprofit organizations and is recognized as an expert on Internet-based fundraising strategies. Jon graduated from Miami University, Oxford, OH, with a degree in Systems Analysis specializing in Finance. Jon also puts his fundraising experience to good use to help Warrington Youth Baseball, where he is also a coach to his children (and many others).



Tom Gimpel, Vice President
– Product Development & Delivery

Tom is responsible for overseeing the actual software engineering processes and quality control efforts for all of SofterWare's product lines. He spent more than 20 years in software development leadership at numerous companies, most recently as SVP/Chief Software Architect at GMAC Commercial Mortgage. Tom is a former Microsoft Customer Advisory Board Member with expertise in enterprise development and software integration approaches, and three-time recipient of the "Digital Innovation" award by Realcomm, an industry technology organization. Tom also created SofterWare's first mobile application for the iPhone and Androids.



Ron Leatherman, Vice President
– Childcare Management Solutions

Ron has been working at SofterWare for over 25 years! He previously worked as business manager for Camp Hebron, one of our original clients. Working his way from support to various departments, Ron is now Vice President responsible for our childcare center management and camp solutions. Through the years, he has been an active nonprofit volunteer, including teaching English in Belize, and more recently, using vacation days to rebuild houses in tornado damaged areas in the south. Ron graduated with a BA from Goshen College in Indiana.



Michael Scott, Vice President
– Finance & Operations

Mike worked as a certified public accountant for approximately 10 years, largely focused on nonprofit and technology-based clients. Since 2001, Mike has been drawing on the experiences he gained helping clients from the outside as a CPA to contribute to SofterWare's success from the inside. He now oversees the company's accounting and administration departments. Mike holds a BA from Franklin & Marshall College (the Diplomats – an apt name for our own diplomat).